Racing Line Details Window
There are two types of Best Line segments: Normal and Wide Radius.
Normal
The Normal type of best line makes up the bulk of all best line segments in the default tracks.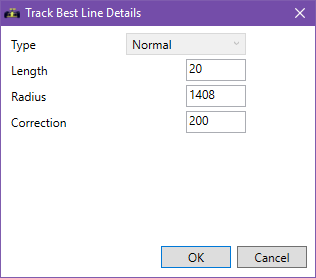 | Name | Description |
| --- | --- |
| Length | The length of the segment |
| Radius | Positive values for right-hand turns, negative values for left-hand turns. Smaller value for sharper turns. |
| Correction | Adjusts the starting point of the segment forward or backward along the best line. Is used to make fine-tuning adjustments when adjusting the length of a segment would not be exact enough. |
Wide Radius
The Wide Radius type is used for very long curved segments, such as the back straight at Montreal.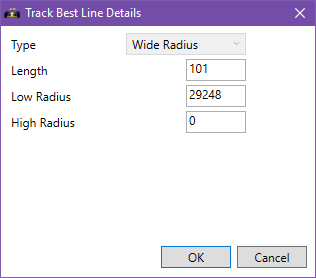 | Name | Description |
| --- | --- |
| Length | The length of the segment |
| Low Radius | |
| High Radius | |